12th Annual Meeting of the International Pest Risk Research Group
Burgeoning Asian Trade Connectivity: Implications for International Pest Risks
16-19 October 2018
Taichung, Taiwan
Hosted by the Taiwan Agricultural Research Institute and National Chung Hsing University
The International Pest Risk Research Group (IPRRG) will be hosting its 12th annual meeting in association with the Taiwan Agricultural Research Institute (TARI) and National Chung Hsing University (NCHU) from Tuesday 16th October – Friday 19th October 2018 in Taichung, Taiwan. (A PDF version of the meeting announcement and call for abstracts is available here.)

Throughout Asia, new trade partnerships and rapid expansion of infrastructure will have dramatic effects on the global movement of agricultural products and other goods. For example, China's "Belt and Road" initiative promises to re-establish trade routes connecting central Asia to Europe and the rest of the world. The economic opportunities provided by such developments will, in turn, bring new and different invasive species risks. This year we wish to focus attention on this shifting risk landscape to better understand and prepare for the emerging challenges.  
Call for Abstracts: [***Abstract submission is now closed.***] Oral and poster presentations are invited on all aspects of pest risk research. Pests include "any species, strain or biotype of plant, animal or pathogenic agent, injurious" to plants or animals. Â Presentations on the meeting theme are particularly welcomed but those describing advances in modelling and mapping risks (e.g. pathway analysis, species distribution modelling, spread modelling, uncertainty analysis, climate change impacts and vector-borne disease risk), impact assessment and communicating risks to policy makers are also welcome. University students are encouraged to participate fully. As was the case for previous meetings, members are limited to one oral presentation but may submit multiple posters.
Meeting Agenda: The meeting programme booklet, which includes the agenda as well as presentation abstracts, is available here.
Meeting Registration:Â [***Online registration is now closed.***]
Meeting Venue: The meeting will be held on the NCHU campus (see map below). On the morning of Day 1 (Tues 16 October), we will meet in the Agricultural and Environmental Science Building (#36 on the map), 7th Floor, Room 7D09. All other sessions, including the afternoon of Day 1, will be held at the International Agriculture Center (#10 on the map), much of which is used for the International Master Program of Agriculture (IMPA). We will meet on the 2nd floor of the Center.
***A shuttle bus will transport participants from the Park City Hotel to campus each day (see below). Please be in the hotel lobby by 7:45-7:50 AM each morning to ensure that you don't miss the shuttle!***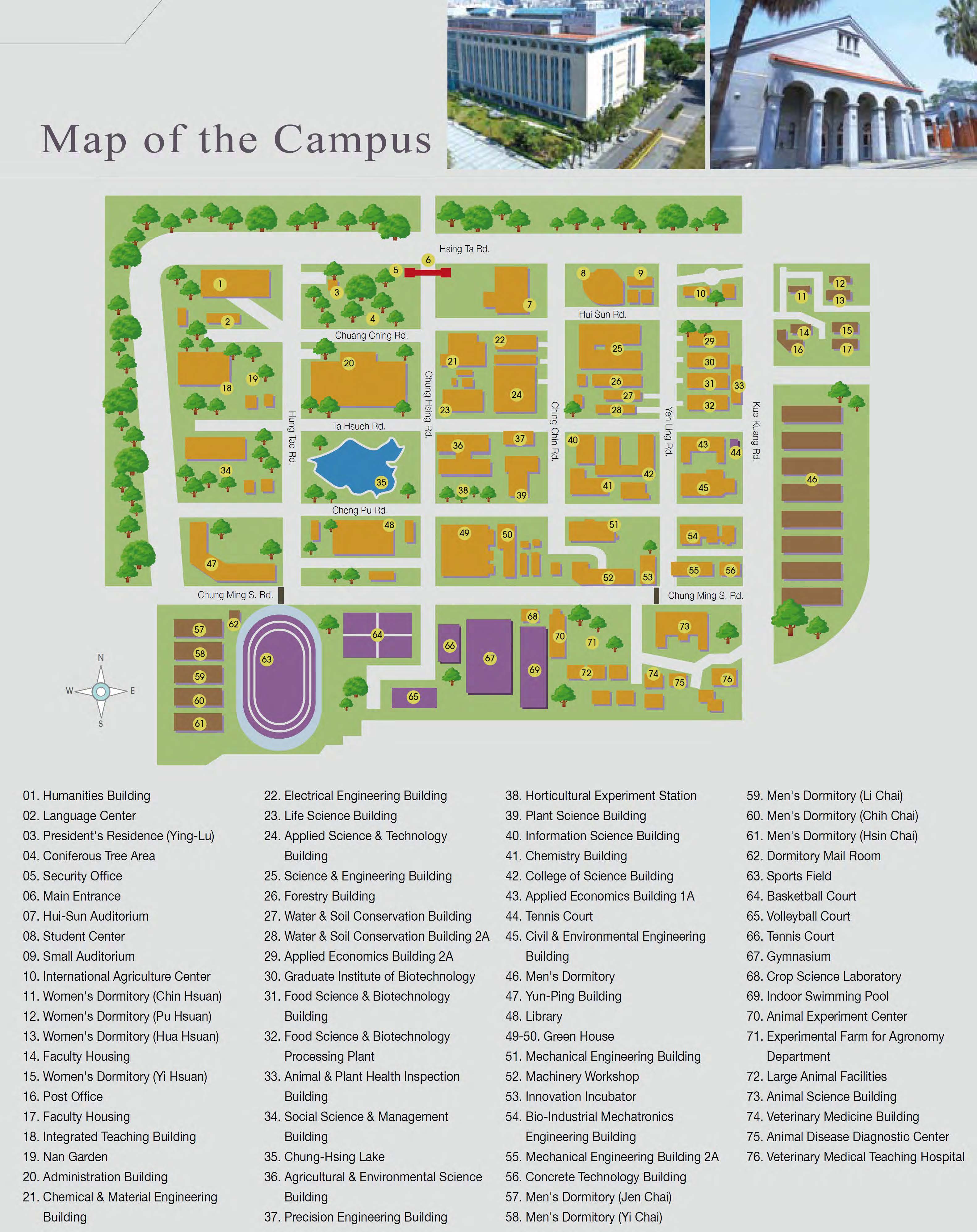 Travel and Accommodations: The meeting will be in the middle of the fall season when temperatures are a little cooler and rainfall is at its lowest. For early registrants, we secured a block of rooms at the Park City Hotel in Central Taichung. The deadline to be included in the hotel block was the end of September, but late registrants may still want to contact the hotel to see if any rooms are available. There are also other hotels nearby with reasonable nightly rates.

As mentioned above, a shuttle bus will transport attendees back and forth from the Park City Hotel to NCHU each day of the meeting. (Thanks to the local organisers for arranging this!)
International travelers may find that flying to Taipei (Taoyuan International Airport) and then taking ground transportation to Taichung is the most practical or cost-effective option. High-speed rail service is available, as are bus and conventional rail services. You can find fares and view route timetables for Taiwan High Speed Rail (THSR) by visiting their site. To get to the Taoyuan THSR station from the airport, you'll need to take either the MRT (Taoyuan Airport Metro) or a shuttle bus.
Conventional rail services are managed by the Taiwan Railways Administration (TRA). The U-Bus (intercity bus) runs 24 hours a day from Taichung to Taoyuan Airport (but not 24 hours a day FROM the airport) and does not require reservations. The bus stops at both airport terminals and in front of Taichung's main train station, which is close to the hotel. The trip by U-Bus takes about 2.5 hours. None of these transportation options is expensive, ranging from 280 NTD (less than 10 USD or 13 AUD) for a one-way U-Bus ticket to 905 NTD (about 30 USD or 40 AUD) for a one-way THSR business car ticket between Taoyuan Airport and Taichung (or vice versa).

If you are arriving or departing via Taichung International Airport, your best option is to take a taxi to/from the hotel (400 NTD, about 13 USD or 18 AUD).
Here are some Mandarin phrases that you may find useful. If needed you should be able to show these to just about anyone.
> I want to take the high speed train/我想搭高鐵
> Take the bus to Taichung train station/搭公車到台中火車站
> Taxi, I want to go this hotel/我想要去這間旅館
> Hotel address: 台中市40041中區民權路66號
> Police station/警察局
> Hospital/醫院
Passport / Visa Requirements: ***Please read*** Citizens of Australia, New Zealand, USA, Canada, Japan, Republic of Korea and most European countries do not require entry visas for Taiwan (i.e., are eligible for visa-exempt entry). Please visit the Taiwan ROC Embassies and Missions Abroad page to find the appropriate office in your home country, through which you should be able to learn about any visa requirements and access visa services, if necessary.
The local organisers note that, in the past, some international visitors ended up having to cancel flights because they used their official passports.
We look forward to seeing you in Taichung!