2023 Annual Meeting of the International Pest Risk Research Group
in Association with the Kenya Plant Health Inspectorate Service, CABI and Cervantes Agritech
Collaboration and capacity building in pest risk analysis
21st – 24th September 2023, Nairobi, Kenya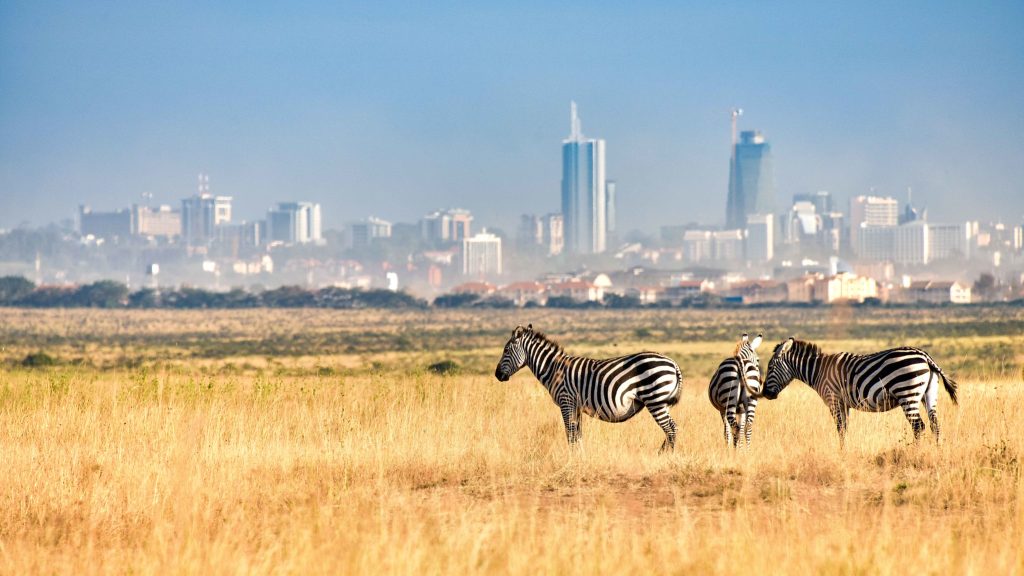 We are delighted to announce the inaugural meeting of the International Pest Risk Research Group (IPRRG) in Africa, in partnership with the Kenya Plant Health Inspectorate Service, CABI and Cervantes Agritech. The meeting will be held in Nairobi, Kenya from 21st to 24th September 2023.
About the Meeting Theme: Collaboration and capacity building are natural topics for our first meeting in Africa. Reflecting on the road map set by IPRRG over a decade ago, which highlighted the importance of international collaboration, comprehensive training programs, and the study of human and biological interactions, IPRRG 2023 presents a unique opportunity to make significant advancements towards these goals in a region of immense significance.
IPRRG 2023 is being organised alongside the 4th International Phytosanitary Conference, hosted by KEPHIS, which will take place 18th – 21st September 2023. We believe the International Phytosanitary Conference theme, "Enhancing Phytosanitary Systems for Trade Facilitation, Climate Smart Agriculture and Sustainable Livelihoods", complements the IPRRG 2023 theme superbly. The combination of these two events promises an enriching and engaging experience for anyone interested in pest risk methodologies and related research.
* If you would like to attend the 4th International Phytosanitary Conference, please see the announcement below for details or visit the meeting page on the KEPHIS website.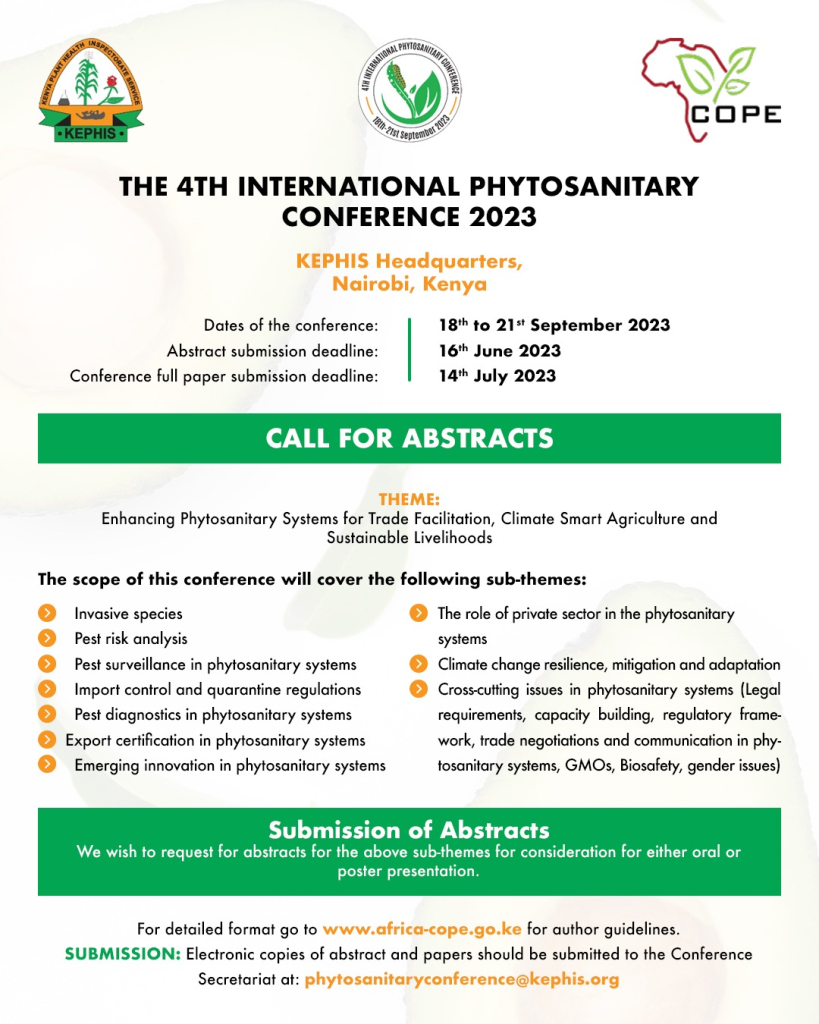 ---
Call for Abstracts: *PDF version* We invite researchers, scientists, practitioners, policymakers, and all stakeholders with an interest in pest risk modelling and mapping to submit abstracts for oral presentations or posters. The conference will cover a broad range of topics, including but not limited to:
Collaborative approaches in pest risk modelling and mapping
Capacity building initiatives and training programs
Advances in data collection and integration for more accurate risk assessments
Socio-economic factors and their impact on pest risk management
Innovative methodologies for pest risk analysis and prediction
Case studies highlighting successful collaborations and capacity building efforts
Policy implications and regulatory frameworks for pest risk management
Emerging pests and their potential impacts on global agriculture
Climate change and its influence on pest dynamics and spread
Novel technologies and tools for pest surveillance and early detection
Risk communication and stakeholder engagement in pest management
Ecological impacts of invasive pests and their management strategies
Genetic approaches in pest control and resistance management
Economic evaluation of pest control interventions and their cost-effectiveness
Remote sensing and geospatial analysis in pest risk assessment
Biosecurity measures and quarantine protocols for preventing pest introductions
Cross-disciplinary collaborations in pest risk research and modelling
We encourage abstract submissions that reflect both theoretical and practical aspects of pest risk modelling and mapping, drawing from diverse disciplines and perspectives.
The deadline for submitting abstracts (max 250 words) for both oral and poster presentations at IPRRG 2023 will be 31 July 2023. As with previous IPRRG meetings, submission is via online form (click below). Only logged-in IPRRG members will be able to access the form. Members can present one oral presentation but are welcome to submit multiple poster presentation abstracts.
Deadline for submitting abstracts is extended to 18 August 2023.
---
Meeting Program: The program, including a detailed agenda as well as oral and poster presentation abstracts, will be available later this year, hopefully by mid-August.
---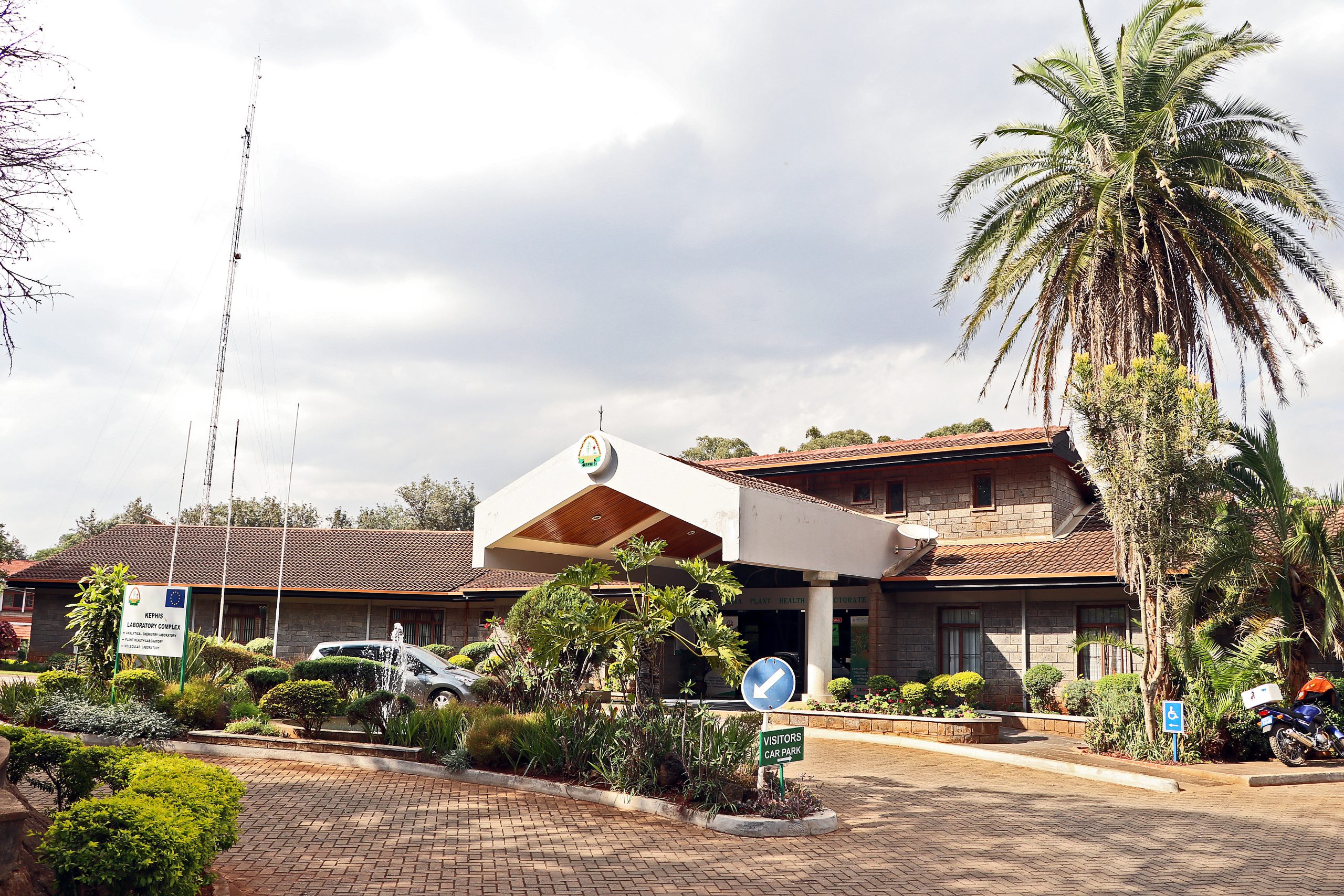 Venue: Kenya Plant Health Inspectorate Service Conference Centre (KECC), a serene, peaceful environment away from the hustle of the city centre. KECC is located at the heart of Karen, approximately 22 km from the City Centre. Venue is accessible to shops, malls, banking facilities and the world famous Nairobi National Park.
Airport shuttle: The airport is located approximately 30 km from the hotel. It is not recommended to use the shuttles offered in the arrivals hall and in front of the terminal. Below you will find the link to the shuttle company, proposed by local organisers, where you can order your shuttle service.
Pride Drive Limited – Car Rental Agency in Nairobi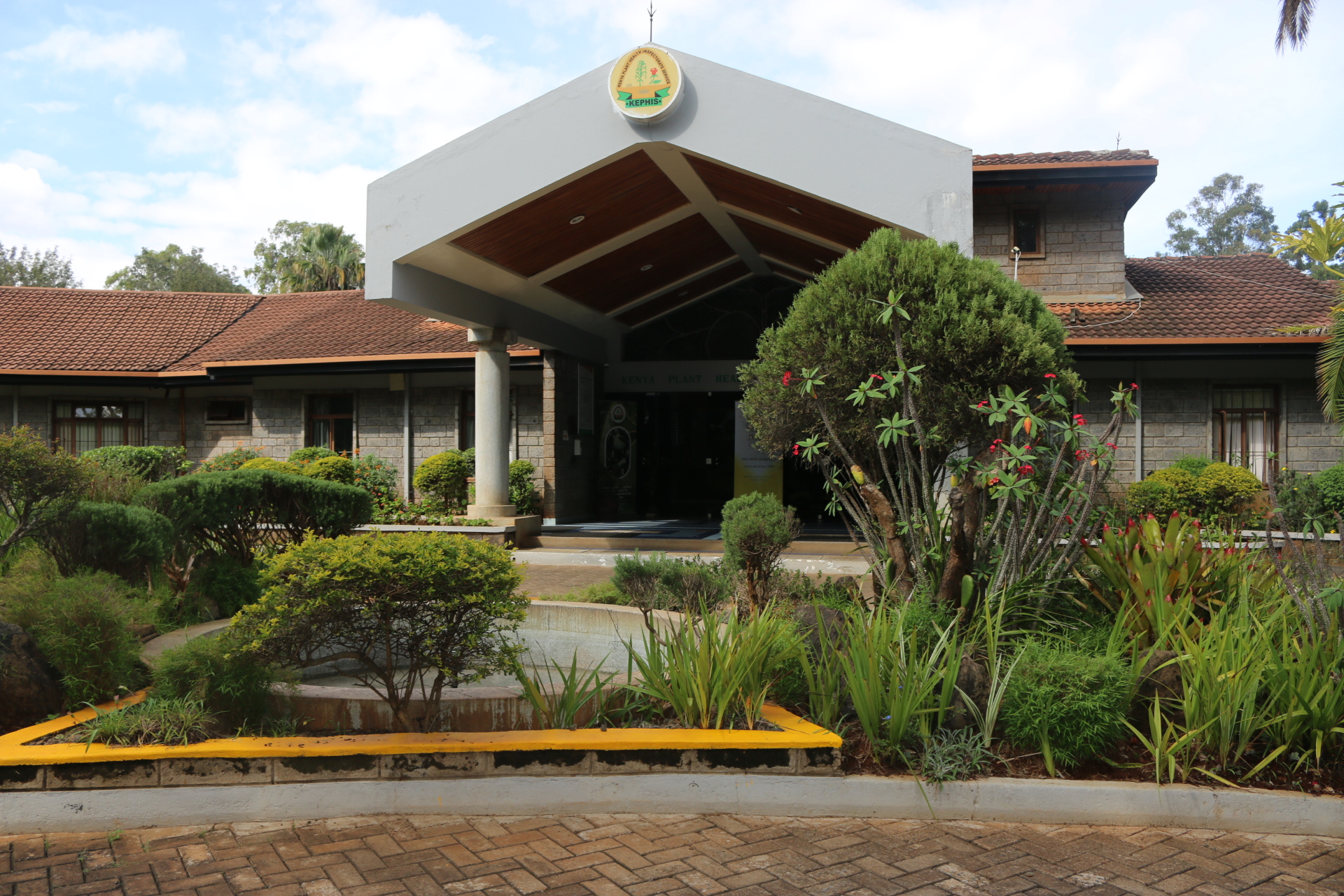 ---
Registration: The IPRRG 2023 registration fee will provide access to all meeting sessions, refreshments during the meeting, a group dinner and a technical excursion. (The technical excursion will be shared with the International Phytosanitary Conference, so the IPRRG 2023 fee will be less for participants registered at both meetings.) As always, students are eligible for a discounted registration.
Registration rates: for regular participants 350€; for students 300€.
Late registration rates (5th – 18th September): regular participants 450€; for students 400€
---
Accommodations: Our partner KEPHIS has reserved a block of rooms for 40 guests at the KCB Leadership Centre for the nights of 17th (check-in) – 25th (check-out) September. The rooms will be available first come, first served. We're assembling a list of alternative hotel accommodations, to be posted soon.
KCB Leadership Centre rates in USD.
To book your accommodation please fill the form and send to [email protected].
KCB Leadership Center requires upfront payment to reserve a room. Banking details are as follows:
Name of Account
KCB Leadership Centre
Full Bank Name:
KCB Bank Kenya LTD
Branch Name:
Moi Avenue
Full Bank Address and Postal code:
KENCOM house, Moi Avenue Nairobi, Kenya
Swift Code (8 or 11 characters):
KCBLKENX
Bank code:
01
Bank Account Number:
KES: 1107418607
USD: 1112461671
Vendor street details/House number:
Ngong View Estate Road, Karen
Postal address, Code and City:
24030-00502 Karen- Nairobi
---
Visa: Please carefully read the following instructions:
Check Visa Requirements: Before making any travel arrangements, we kindly request all readers to determine whether they need a visa to enter Kenya. Visa requirements vary based on your nationality. To check if you require a visa, we recommend visiting the official website of the Department of Immigration Services (eCitizen – Gateway to All Government Services) or contacting your local Kenyan embassy/consulate.
Invitation Letter: If you determine that you need a visa to enter Kenya, we are happy to assist you by providing an invitation letter for the conference. The invitation letter serves as supporting documentation for your visa application and confirms your purpose of travel. To request an invitation letter, please indicate it in the registration form.
Entry Requirements (On Arrival):

Passport Valid for at least Six Months
eVisa Printout from www.eCitizen.go.ke
Travel itinerary
Supporting letter e.g. letter from company or Invitation letter for business visits/family visits. or
Hotel bookings/details about places to visit if going as tourist
---