Amid all the excitement around our webinar series, we forgot to announce the recent publication of Volume 4, Issue 5 in Emerging Topics in Life Sciences! The issue, "Biosecurity: Tools, behaviours and concepts", was edited by IPRRG member Alan MacLeod and Nicola Spence (Defra, UK). The journal specializes in publishing themed issues comprised of easy-to-digest mini-reviews, with the aim of keeping both students and researchers up-to-date on rapidly moving research areas. Here's the abstract of the leading editorial:
COVID 19 has raised the profile of biosecurity. However, biosecurity is not only about protecting human life. This issue brings together mini-reviews examining recent developments and thinking around some of the tools, behaviours and concepts around biosecurity. They illustrate the multi-disciplinary nature of the subject, demonstrating the interface between research and policy. Biosecurity practices aim to prevent the spread of harmful organisms; recognising that 2020 is the International Year of Plant Health, several focus on plant biosecurity although invasive species and animal health concerns are also captured. The reviews show progress in developing early warning systems and that plant protection organisations are increasingly using tools that compare multiple pest threats to prioritise responses. The bespoke modelling of threats can inform risk management responses and synergies between meteorology and biosecurity provide opportunities for increased collaboration. There is scope to develop more generic models, increasing their accessibility to policy makers. Recent research can improve pest surveillance programs accounting for real-world constraints. Social science examining individual farmer behaviours has informed biosecurity policy; taking a broader socio-cultural approach to better understand farming networks has the potential to change behaviours in a new way. When encouraging public recreationists to adopt positive biosecurity behaviours communications must align with their values. Bringing together the human, animal, plant and environmental health sectors to address biosecurity risks in a common and systematic manner within the One Biosecurity concept can be achieved through multi-disciplinary working involving the life, physical and social sciences with the support of legislative bodies and the public.
A number of IPRRG members contributed to the issue, and several of the articles are available as open access. Check out the table of contents at https://portlandpress.com/emergtoplifesci/issue/4/5.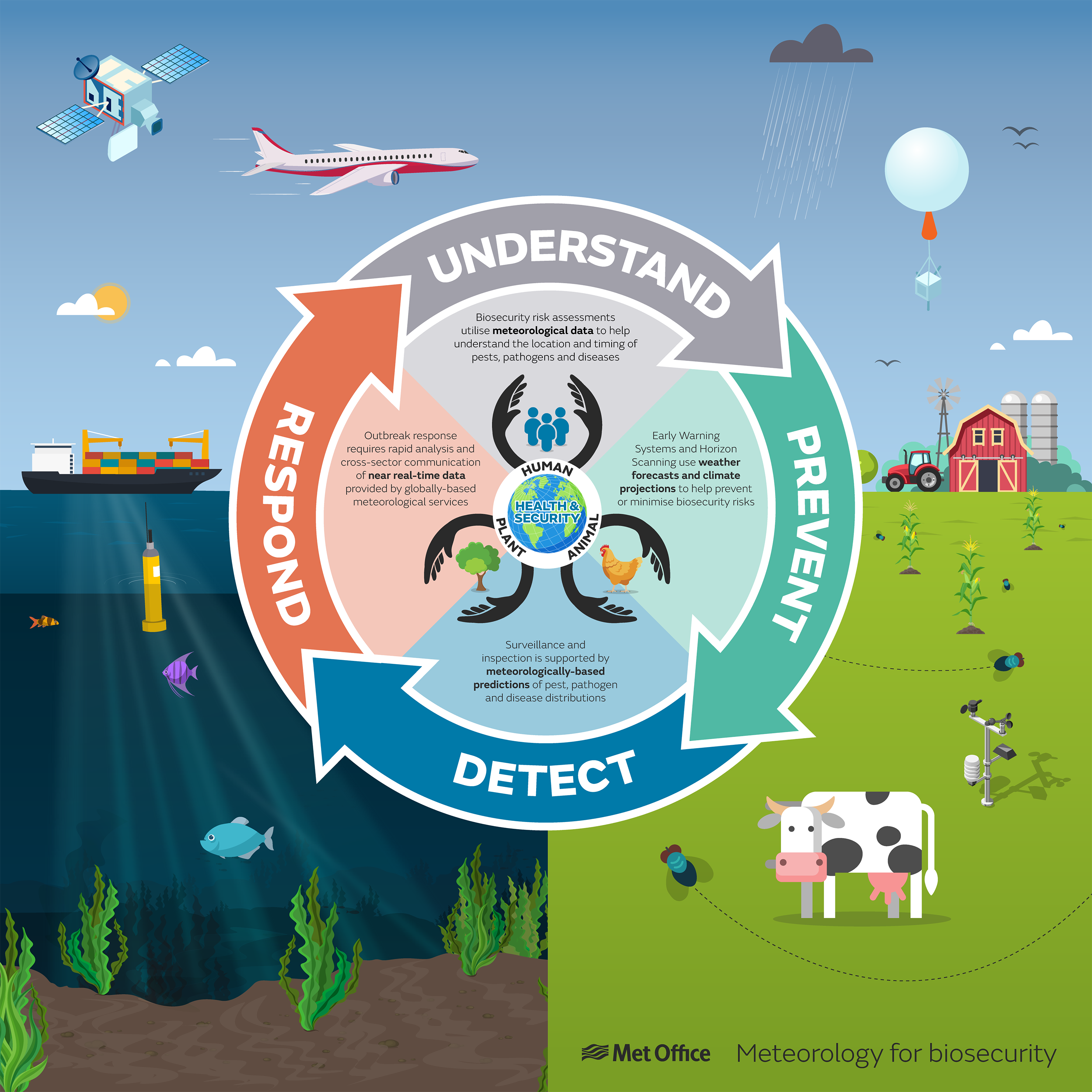 The cover of this Emerging Topics in Life Sciences special issue, Biosecurity: tools, behaviours and concepts is a Met Office infographic devised to highlight the role of meteorology in biosecurity as outlined in the paper "Use of meteorological data in biosecurity". By fusing together multiple forms of science communication, the Met Office hope to expand the reach of science beyond the conventional research community.